Bike Hangers (Do it yourself)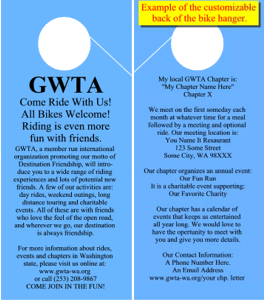 These customizable bike hangers are great recruiting tools and the back can be customized with information about your chapter. The day, time and location of your meetings, annual events you organize, your chapter activities and what a bunch of great people the reader will meet. Include how your chapter can be contacted and your Web site address. Click the image to see an example.

Instructions:

Front of bike hanger: Click to open the hanger front file in PDF format, place 8.5 x 11 card stock (a light color of your choice) in your printer and print. When finished flip the page(s) over and place back in the printer in preparation to print the back.

Back of bike hanger: To customize the back with information about your chapter, open the hanger back file in PDF format. Using your mouse, select and delete the instructions in the document. Next, type your chapter information in the two text fields. When finished click print. Note: You may need to rotate the view of the PDF. On the menu go to View then down to Rotate view counterclockwise.

Cutting the Hole: A 1.5 inch paper shaper nesting punch is best, but using scissors or razor knife will work also. Securely clamping your hangers between two pieces of wood and drilling using a 1.5 inch drill bit is another option.