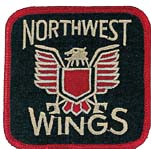 Northwest Wings Drill Team Web Site
Drill Team Roster

Chapter Color: Gold & Navy Blue
CB Channel: 2

The Northwest Wings/Chapter "D" meet the 2nd Sunday of every month. Breakfast from 8 a.m. to 9 a.m. with meeting starting at 8:30 a.m. (Please call one of the NW Wings to make sure there's going to be a meeting)

Location:
Yankee Grill
1 S Grady Way
Renton, WA 98057 MAP
(425) 255-8543

Annual Event:

Northwest Wings Western Roundup BBQ
March 3, 2018
White Center Eagles
10452 15th Ave SW, Seattle, WA 98146
Burien, WA 98168   MAP
Drill Team Western Roundup and Auction Flyer 2018


The NW Wings auction is the one time of the year that we can hold a fund raiser in an effort to defray some of the cost we incur while performing for the public. The NW Wings do not charge for their performances and most of the cost for travel and lodging is paid for by the rider. We have been successful in keeping costs down for the riders by holding this early season party and auctioning off donated items to raise money for team expenses. In the past we have had some unusual items offered for auction. One item that didn't sell (but was a great source of amusement) was a vasectomy. We did sell a root canal donated by a local dentist. All sorts of items, not just motorcycle related have been put on the block.
If you would care to offer a Item for our auction please contact one of the riders listed above for further information and instructions. The Northwest Wings are deeply grateful for the support and encouragement of our local and out of town friends.