Helmet Safety

Remember your helmet has a MAXIMUM 5 Year Effective Lifespan. Things like dropping 3 feet to a hard surface, chemicals (body oil, gas fumes, etc.) being hit by debris at highway speeds cut the lifespan dramatically. The expanded poly-styrene material inside the helmet degrades over time and is less able to provide impact protection. If you or your loved one is using a helmet over 5 years old, please get them into a new one. Convince them to buy a new one or give them one as a present.

The new flip front style helmet is rapidly becoming a favorite by the EMT's and  Medics. They afford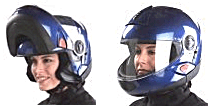 EMTs access to the face without removing the helmet possibly causing more injury to the neck and head areas to administer oxygen and/or medication to the injured. Normally they would have to cut off a helmet with a cut saw or use the "jaws of life" to cut the chin guard off of a full face helmet. Now, they simply raise the face shield.

Motorcycle Helmet Safety Fact Sheet

Choosing a motorcycle helmet.

The most important piece of motorcycle safety equipment that you can buy is a helmet. Every rider benefits from wearing a helmet, no matter how great or how little their level of experience. In order to choose a helmet that offers the most protection without sacrificing comfort or style, the National Highway Traffic Safety Administration offers some guidelines.

Be sure your helmet meets the DOT standard.

Make sure that your helmet meets the Department of Transportation's (DOT) Federal Motor Vehicle Safety Standard (FMVSS) 218. First, look for the DOT symbol on the outside back of the helmet. Then, look for a label inside the helmet stating the manufacturer's name, month and year of manufacture, construction materials, helmet model and size, and owner information. A complying helmet must have both labels.

Make sure your helmet is well made.

Helmets that comply with the federal safety standard will have a firm polystyrene (Styrofoam) inner liner of about one-inch and weigh about three pounds. They will also have sturdy chinstraps with solid rivets. Safe helmets will never feature spikes or other protruding decorations.

Think about style.

Full-face helmets offer the most protection in a collision. Plastic face shields protect you from wind, dust, rain, insects, and road debris thrown up from cars. If you buy a helmet without a face shield, be sure to wear goggles to protect your eyes. Remember, a windshield is not an adequate substitute for a face shield or goggles. And neither are eyeglasses as they cannot keep your eyes from watering and are easily dislodged.

A design such as the German Army style or skull cap style may be a clue to an unsafe helmet. Generally, unsafe helmets are noticeably smaller in diameter and thinner than ones meeting the DOT standard.

Make sure your helmet can be seen.

Brightly colored helmets increase your visibility to other vehicles. Add reflective tape on the back and sides of the helmet for even greater visibility.

Make sure your helmet fits properly.

Always try on a helmet before you buy it. Your helmet should feel snug and it should not turn freely around your head. It should not be able to move back and forth on your head. A helmet should not in any way prevent you from turning your head to observe traffic. All helmets are required to provide the wearer with a 210º field of vision.

When you wear a properly fitted helmet, wind noise is actually reduced. Although a helmet does reduce the intensity of sounds, it reduces the intensity of all sounds equally. Loud external sounds such as car horns and sirens are still very audible above all other street noises.

Each brand of helmet fits differently. So, try on a variety of brands to find the one that fits you best. The dealership staff will assist you with the proper fit.

Always fasten and tighten the chinstrap.

An unfastened helmet will fly off in a crash. Whenever you have the opportunity, check the chinstrap to make sure it is still secure.

Avoid wearing a damaged helmet.

A used helmet may have been involved in a crash and damaged in ways that are not obvious. Even falls from places like the motorcycle's seat or the end of a handlebar shorten the life span of a helmet. Be sure to replace your helmet if it has been in a crash. Any damage to a helmet reduces its effectiveness, so replace your helmet if it has been damaged. If you are not sure that your helmet needs to be replaced, arrange to return it to the manufacturer for inspection. Care for your helmet as indicated in your owner's manual.